Three Peaches

The story behind this song was recently shared (here) on the NMH message board (September 2005), with a heartbreaking ending.
Hi everyone. I just realized something very sad and thought i would share it with people who might be slightly interested (i.e., fans of NMH).
Ok, so I went to college in Ruston La in the early 90's which means I was fortunate enough to befriend some incredibly talented people. Most of them have moved away (with many becoming quite successful, as you all well know), but i stayed here and haven't seen most of them in years, except on occassional visits to georgia or new orleans. Several months ago, my closest friend from those days, who now lives in Athens, called to tell me some sad news; that our friend Jennifer had taken her own life. Of course this was very upsetting, and in some ways I even went through feelings of guilt for not having been able to help her somehow. Anyway,my memory was sparked the other day after seeing something online about Jeff Mangum, and I started to think about Jennifer. Jeff and Jennifer had become very close before he moved away to record On Avery Island. And what I realized that made me so sad all over again, is that she is the subject of the song "Three Peaches". She had moved to Ruston on the urging of a mutual friend of hers and mine, when he found out that she'd tried to kill herself (yes, it did in fact happen in a bathroom, and a friend found her and saved her life). Our friend asked her to move in with us so that maybe she would find a better life there among our friends, who were all amazing people. It was shortly after moving into the house we all shared, known as "the monroe street house" (a big meeting ground for all things E6 at that time), that jennifer and jeff became very close, and he wrote this song for her. I remember her playing a tape of it to me when she and I and a dozen other friends took a trip to colorado, back in november of 1994 (i remember the date because we all celebrated thanksgiving together in a dennys there!).
Anyway, It all just came flooding back to me the other day when I stumbled across this video of jeff performing, which is something I haven't seen for many years. And here he was on this song talking about how happy he was that she didn't die. And a decade after he wrote this hauntingly beautiful song for her, she did end up doing that. It just really tears out my heart thinking of it. she was a beautiful person, and she is greatly missed. Part of the reason that I wanted to share this with you all is that I feel I need to help preserve her memory. I'm not even sure if she stayed in contact with Jeff, or if he knows what happened to her (he probably does, since my friend in athens told me, and jeff and I still share some mutual friends who live in athens). If you're interested, here's a painting that I did of the two of us after I heard that she'd died. (Jennifer is the one with the longer hair).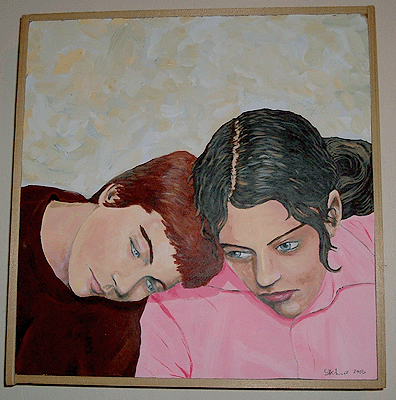 I'd like to think that people will think of jennifer when they hear that song. I realize that it is probably not my place to give away any specifics about jeff's songs, (and i only know the backstory of a few of them), but in this case it just really meant a lot to me to let people know who jennifer was, and how special she was. Thank you all for reading this.

i really do wish i did know why she was so sad ... there's probably no way to really know. I do know that she had a child when she was 15 who was being raised by her mother (that would make him 16 now! ...does that ever make me feel old!). I believe this was a big, heartbreaking issue for her when we lived together. I think that there were just so many things piled up over a lifetime, and for whatever reason she just could not handle it. I'm not sure what specific events might have preceeded her death, as I had not seen her in many years. I really do wish I could have been there for her, as she had often been there for me. In addition to all of the talking and shoulder-crying-on that went on between the two of us, She quite literally saved my life one day, during the aforementioned trip to colorado, where i nearly fell while my friends and I were climbing mountains (with no gear! what a bunch of idiots we were!). Jennifer grabbed me from behind and saved me from a very messy fall, that certainly would have killed me if she'd not caught me. We were at least the equivalant of 10 stories high. You can imagine why she was so important to me, and why i have spent so much time feeling guilt over not being there for her in the last days of her life.
J. Kirk Pleasant of the band Calvin, Don't Jump also shared some thoughts. This post was made in response to someone questioning if the NMH song "(I Bring) Jennifer" was about the same person.
Because Jennifer was my first love, and my best friend, I'd like to clear this up. She is not the one from the song, 'jennifer', but she did inspire 'three peaches', and I did bring her up to ruston with holiday designs carved into her wrists. She was the most amazing writer I've ever read. So beautiful and strange and tragic. Her life from the outset was fraught with disaster after disaster until in Dec. '05 she died, one month after her husband, and one year after a stillborn child. She left a son, mother, sister in south louisiana and many many friends and loves around the world. Her name was Jennifer Lynn Ledet and her ashes are scattered around an ancient oak tree in pontchatoula, la.
may she find peace in the afterlife.
Available
On Avery Island - album version
Live
No known live performances.
Lyrics
So wake up run your lips across your fingers till you find
Some scent of yourself that you can hold up high
To remind yourself that you didn't die
On a day that was so crappy whole and happy you're alive

You're in the bathroom carving holiday designs into yourself
Hoping noone will find you but they found you
And they took you
And you somehow survived

So wake up and if the holidays don't hollow out your eyes
Then press yourself against whatever
You find to be beautiful and trembling with life
Because I'm so happy you didn't die